Microfinancing: A Progressive Social Experiment
Microfinance is the belief that if you offer poor communities financial tools to successfully bring themselves out of poverty, then the cycle of poverty can be broken. By addressing the lack of financial resources in financially struggling areas, microfinance institutions have been able to build a profitable industry that investors thought to be a lost cause. However, if you're an investor wanting to diversify your portfolio while making high returns, this investment opportunity is not for you. Most MFI's are offering their services at a very low cost while most profits are used to continue growth and maintain the infrastructure.
As you can see from the pie chart above, 58% of women worldwide have a micoloan account. Even in countries where women's rights are non-existent or education is viewed as only for the rich, the ordinarily forgotten poor are given an opportunity to pay for their daughter's wedding, buy their children school clothes, or cash to invest in a booth at the local market. The mission is to effectively integrate the poor into society and so far it's working.
Microfinance: Offers financing for
men and women
to support their education, businesses, and families.
InternationalMicrofinanceMission:
Building Blocks
From 2011 to 2014, the number of financially excluded adults decreased from 2.5 billion to 2 billion. That still leaves 38% of adults unable to qualify for financing.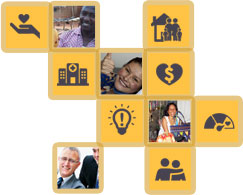 The microfinance industry has aggressively grown since 2005. Microloans are important to developing nations because their citizens usually don't have a credit history, an education, or a stable job and need just a small loan. These people would normally be too risky and unprofitable for banks to consider. That's where microfinance institutions (MFI's) have filled the void. Trustworthy borrowers who are normally denied access to basic financial options, now have access to financing with help from MFI's. Most borrowers only need around $50 to $100 US dollars to get themselves out of a financial tightspot.
Microloans provide them with low interest, short term small loans - which is exactly what they need. Surprisingly, some MFI's are showing default rates at extremely low numbers - proving that even the lowest income individuals are capable of understanding the complex world of financing. It just starts with some building blocks.
Microfinance Institutions: Providing millions with
access to cash
who are otherwise ignored by most financial institutions.
Peer to Peer MicroFinance
Online disintermediation microfinance ventures have reached the United States. Some aim to remove banks from traditional financial transactions, while others aim to allow investment in developing countries by lending directly to local entrepreneurs.
P2P loans have no pre-payment penalties and are available regardless of your credit rating.
Peer lending participants can choose to bid on any loan, regardless of credit history or details - so, while you may be funded directly by participants in the marketplace, it's always a good idea to tap your social network of friends and family.
Microlending in the USA is becoming more and more popular as online companies like LendingClub gain traction against traditional finance services companies.
Get P2P-loans of up to $35,000 or begin peer-lending at interest rates up to 36% to people you choose.